Onboarding: How to Set Digital Sales Reps Up for Success
Reading Time:
6
minutes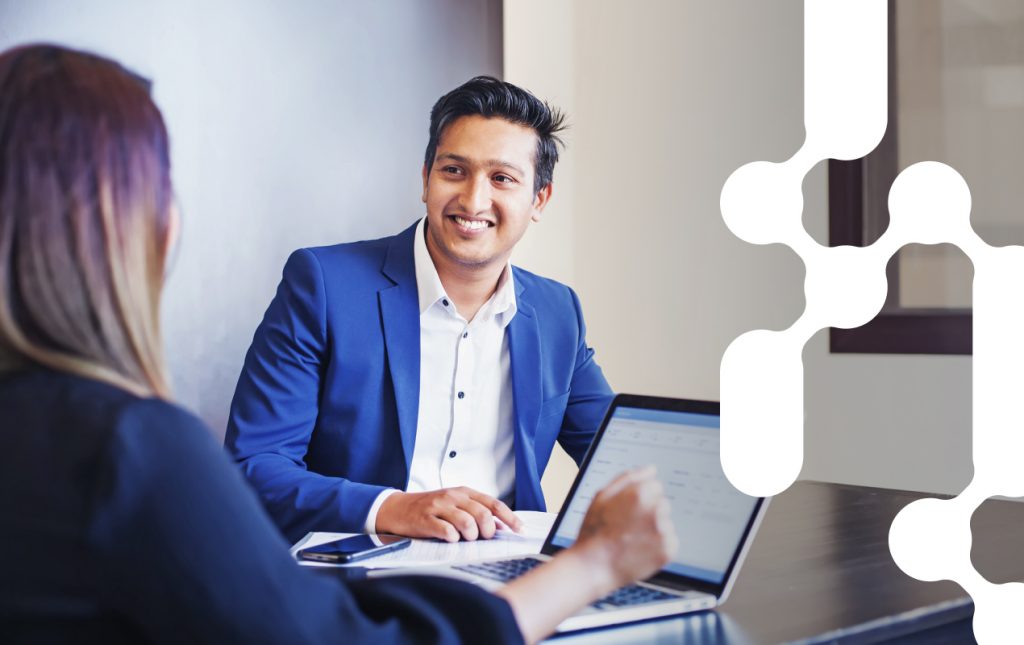 Ramp up your digital sales reps quickly with our top tips for sales leaders.
Without well-trained sales reps, your entire sales pipeline can come to a halt. Leads won't be qualified. Conversations will lead to nowhere. And deals won't close.

As a sales leader, you must develop a comprehensive onboarding process to ramp up reps and provide the tools and training they need to hit their targets. Training to be a digital sales rep requires a different skill set than what's required to sell in the field.
This post explores how suppliers can develop a comprehensive onboarding plan to ensure new digital sales reps are successful from the start.
Understanding the difference between digital sales and field sales.
Before you onboard digital sales reps, it's important to understand the key differences between field and digital sales roles. The training and onboarding process for each role is uniquely different due to the workflows and tactics they use to sell.
Just because you have an established onboarding process for field sales reps, doesn't mean it will carry over to digital sales reps. Here's a quick breakdown of the differences between the two key digital sales roles, and the tactics they use to sell.
Digital Sales Rep
Technical Sales Rep
Role Overview

Digital sales reps are the primary sellers on your digital sales team.

They sell in two key ways:

1) Prospecting new accounts through research and sending outbound communications to generate new sales opportunities via digital channels.

2) Qualifying inbound leads that come in through digital channels, and nurturing them until they are ready to make a purchase.


Role Overview

Technical sales reps are the secondary players on your digital sales team.

They drive digital sales in two key ways:

1) Support digital sales reps when a prospect or customer raises technical questions around product use cases, applications, formulations, etc.

2) Work with customer R&D, engineering and procurement teams to provide product guidance and applications.

Selling Tactics

– Researching target customers through online prospecting tools

– Leveraging digital selling platforms to connect with prospects

– Emailing, cold-calling or responding to lead inquiries generated from digital channels marketing campaigns

– Building relationships with customers to identify customer needs, answer questions, and solve challenges — this helps them qualify the sales opportunity

– Moving leads through the marketing/sales funnel, and arranging in-person meetings, emails or phone calls

– Following up with potential customers who expressed interest but did not purchase any goods or services

– Following up regularly via calls, emails, or marketplaces and communicating with existing customers to identify new opportunities, such as upsell or cross-sell

Selling Tactics

– Serve as a technical expert on company products and key applications and use cases

– Support sales reps with technical product information

– Respond to technical inbound sales inquiries via, email, live chat, phone and online marketplace inboxes

– Help manage online marketplace storefronts, including live chat and message inboxes

– Join virtual sales meetings with digital sales reps to answer prospect and customer questions

– Work with customers and prospects to solve technical or formulation challenges
Respond to technical requests for proposals, samples, or quotes

– Uncover additional customer requirements and upsell and cross-sell opportunities during technical sales discussions

A good plan balances training, speed and efficiency.
Onboarding is where all digital sales success begins. A good program should build a solid foundation for reps to ramp up quickly and contribute to sales growth as soon as possible.

The best onboarding plans balance training, speed and efficiency without getting bogged down in the weeds. It's impossible to cover everything during the onboarding phase. The goal is to get reps to a point where they're comfortable engaging with customers, and then continue learning on the job.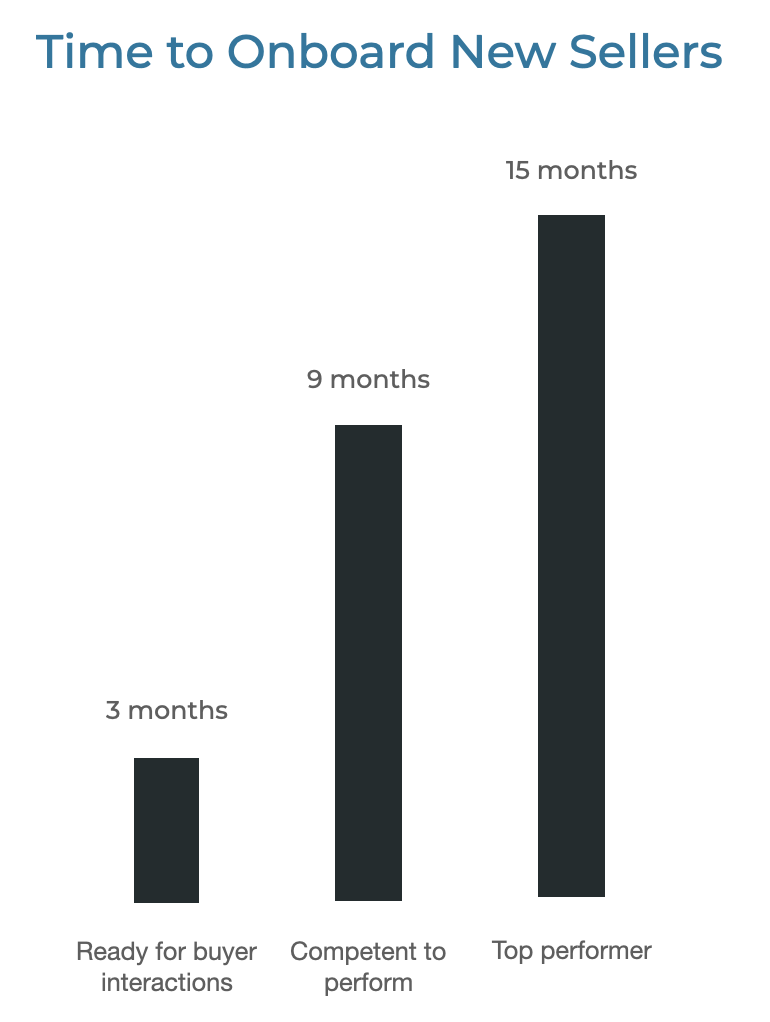 How long does onboarding usually take? Short answer: it depends greatly on the background of the sales rep. Someone that previously worked as an industry field sales rep will require less training than someone who is just starting their sales career, or transitioning from a customer service role, for example.

The technical nature of your market, customer, and products also impact the timeline significantly. While there's no universal answer, recent research from the Rain Group found that the average onboarding takes three months before reps are ready to engage with customers — and approximately 15 months to become a top performer.
How to structure your onboarding program.
Every supplier will need to tailor sales onboarding processes to meet their individual goals. However, we've developed some guidelines to help get you started on the right path.
Develop an onboarding plan and timeline.
It's critical to have an onboarding plan outlined before your new sales rep starts. Keep it simple and make sure it's clear what the salesperson needs to do each day/week from the get-go. Remember to include key milestones, resources and timelines.

Here's an example of what onboarding topics and weekly timeline could look like:
Week 1-2
HR onboarding, team introductions, and company goals & objectives
Customer & market education
Week 3-4
Product
Sales operations and processes
Week 5-6
Sales technology and tools
On-the-job training or shadowing
Week 7-8
Begin prospecting & lead qualification
Start responding to inbound leads and conduct outreach
Explain company, department and individual goals.
Sales reps must clearly understand the go-to-market strategy, how to sell products, regional responsibilities and how sales quotes are structured.

We recommend putting together a presentation that outlines this information and walking them through it during a 1:1 meeting. Make the information accessible, provide an opportunity to ask questions and ensure they understand how success is measured.
Help reps understand what they're selling.
It might seem obvious, but it's crucial for sales reps to understand the products and services they're selling. This stage should cover the products in-depth, including:
Product training and documentation
Unique selling propositions
Use cases & solutions
Industry and market education
Competitive analysis
It's often helpful to pair reps with technical product experts or product marketers to ensure alignment with corporate messaging and positioning. They're undoubtedly going to get tons of questions during sales conversations and they will require foundational knowledge to convey value to customers and drive sales conversations forward.
Familiarize reps with the customer.
Sales reps need to know the customer inside and out. They must understand their challenges, goals, and decision drivers. Otherwise, they'll struggle to convert leads and close deals downstream.
You should provide reps with ideal customer profiles, success stories and case studies. You can also invite them to shadow other sales reps on sales calls to learn from customers first-hand. Some companies will even ask customers to join sales onboardings or kickoffs to share insights about your industry, products and customer pain points.
Connect reps with technical experts.
Sales in the chemical, polymers and ingredients industry is a team sport. While digital sales reps should have a solid understanding of your product catalog, they may not have the answers to every potential technical question an online visitor may ask during a sales conversation. That's why It's important to ensure they have strong relationships — and easy access to — technical product experts that they'll collaborate with during a sales cycle, such as product managers, technical sales reps, R&D or regulatory teams.
During onboarding, reps should meet with these internal experts to get an understanding of how they'll work together to close deals. Teach reps how to prospect sales targets
If you want your reps to contribute to the sales team's revenue target out of the gate, they must be able to sift through leads, create prospecting lists and determine which companies are most likely to buy.

Make sure to provide new hires with data on recent deals, success criteria (i.e., industry, company size, revenue, etc.) and top-performing sales channels. With this information, they'll be able to source new leads, start conversations and convert new opportunities.
Train reps on sales processes, tools and technology.
Every company runs its sales department differently. Even though a sales rep succeeded in their last role, they will still need to become familiar with your organization's processes, tools and technology.
Be sure to provide in-depth training on the approved sales methodology and operations — such as SLAs and lead management — and what's led to success for other reps in the past. It's also critical to train them on the tools and technology they will use day in and day out. These might include your backend systems (i.e., CRM), prospecting tools (i.e., LinkedIn Navigator), and top digital channels (i.e., website, online marketplace, email, and virtual events).
It's also important to cover how sales reps should interact with online leads. If your company has a digital selling solution (i.e. Knowde), they need to understand the importance of timely responsiveness and when to engage a customer in the buying journey.
Assign a mentor and create a feedback loop.
No matter how well you structure your onboarding process, additional on-the-job training will be required for a sales rep to become a top performer. It's helpful to pair new hires with a team veteran to mentor them after they've completed their onboarding. This person can bring them under their wing and show them the ropes.
Additionally, ensure the rep's manager establishes clear communication channels (i.e., phone, email, collaboration platforms, etc.) and builds a constant feedback loop. It's critical to check in often, review performance, and offer suggestions for improvement. This process can come from weekly 1:1 meetings, shadowing them on sales calls, quarterly performance reviews, and more. Ultimately, it's up to their manager to determine what works best, but make sure it's clear how and where they can expect feedback from the start.
Fast track digital sales with proven tactics.