How to Build a Modern Digital Sales Tech Stack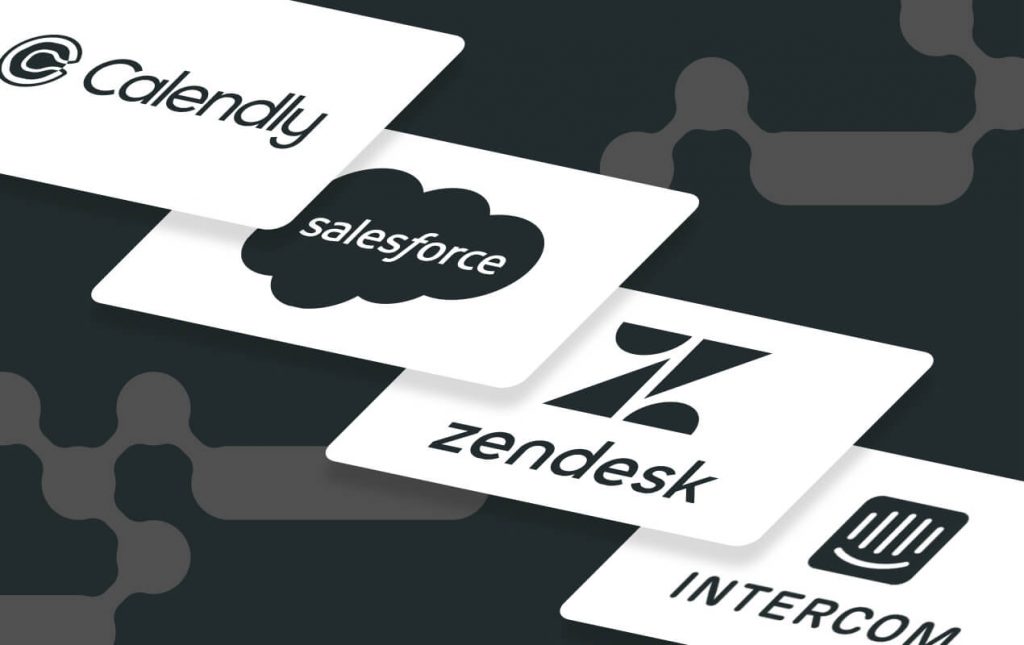 The sales tech stack can make — or break — a deal for suppliers. Build one designed for ingredient, polymer and chemical sales.
Unlike field sales, digital sales teams leverage technology at every sales cycle stage, from prospecting targets to connecting with customers to closing deals. As your company transitions to digital selling, investing in these tools is a necessity. Without them, sales reps will struggle to respond to prospects quickly, manage leads and scale operations — all of which are key to successful digital sales strategies.
Customers also benefit from these technologies. They improve the digital buyer's journey, even in complex sales cycles common when purchasing ingredients, polymers and chemicals.
But with so many tools available, how do you select which ones are right for your company's sales and growth strategy? Read on to learn more about the digital customer journey, common technology challenges, and the key tools to consider as you build your sales tech stack to sell in the digital era.
What is a sales tech stack?
A sales technology (or sales enablement) stack is a collection of software tools and technologies that sales teams use to power operations, manage prospect and customer opportunities, and optimize performance. These include front-end, customer-facing technology (i.e., website, digital product catalog or virtual meeting software) and back-end, employee-facing technology (i.e., CRM, database or eCommerce platform).
Your sales tech stack should save reps time, improve productivity and maximize lead conversion throughout the sales pipeline. Ultimately, the goal of any sales tech stack is to help reps close more deals faster.
Why do digital sales teams need a tech stack?
When customers purchase ingredients, polymers and chemicals through online channels, every stage of their journey — from product searches to eCommerce transactions — requires digital tools. That's why ensuring you have the right technology solutions for your customers and your sales team is crucial. Otherwise, customers will hit obstacles and turn elsewhere, often to a competitor. Meanwhile, your sales team will suffer too. Poor technology implementation can lead to low-quality leads, reduced conversion rates and missed opportunities.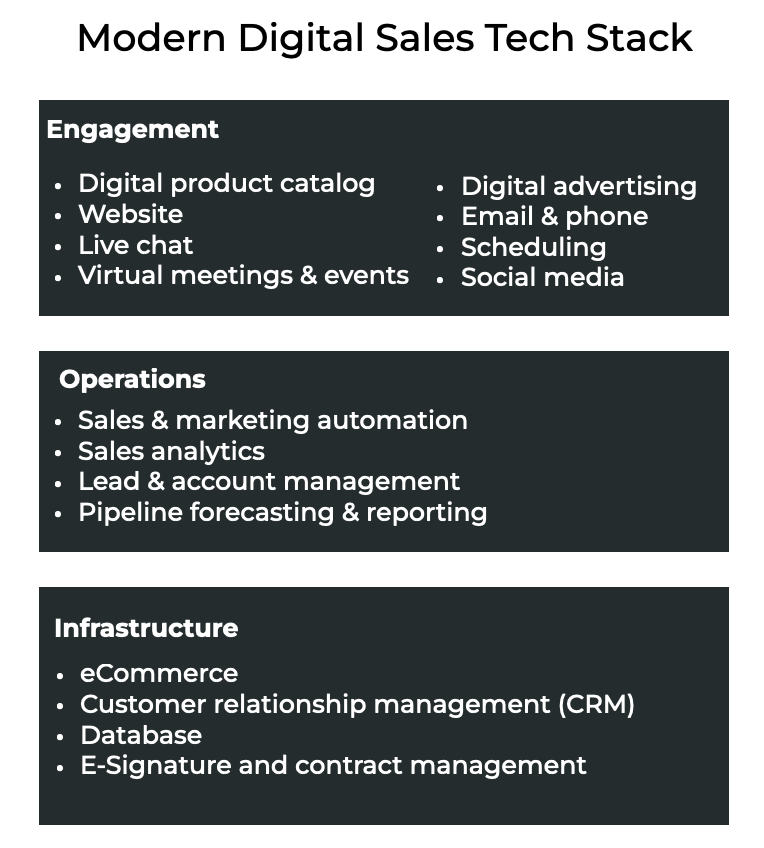 Finding the right technology for your customers' journey.
Despite what some may think, today's modern digital platforms and tools can support the complex sales process that many suppliers encounter. Below you'll find a high-level overview of a typical digital journey for customers purchasing ingredients, polymers and chemicals — and the technology customers and salespeople rely on at each stage to interact, communicate and transact.
Digital customer journey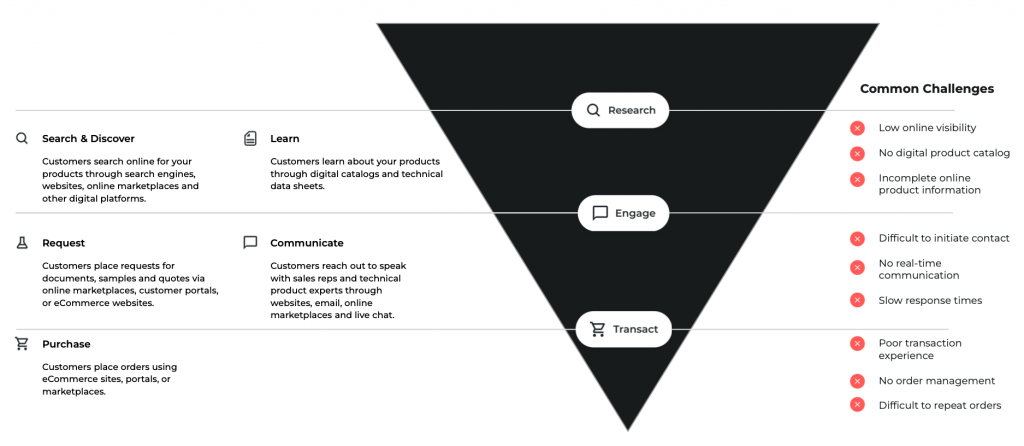 The right technology stack should provide digital solutions to address the common challenges customers face when they are researching, engaging, and transacting with your company online.
7 Essential tools and technologies for digital sales
Building a digital sales tech stack doesn't have to be complicated. Your company likely has many essential sales technologies, such as a website, email client, customer database and a CRM. Some additional technology investments are usually required as you transition to digital sales. We recommend that suppliers start with the basics — such as a digital product catalog and communication tools — and add on from there as they scale teams and operations.
You can begin the journey with a few essential tools, which require implementing a combination of piecemeal solutions — or investing in a complete digital sales and marketing platform like Knowde.
Here is an overview of the essential tools and technology to get your digital sales team off the ground.
Websites, customer portals and online marketplaces are quickly becoming primary digital sales channels. Suppliers set up virtual storefronts that include product catalogs, technical information and more. Customers can quickly search and discover products, connect with technical experts, request additional information and even make eCommerce transactions in one convenient place.
eCommerce platforms allow customers to transact with suppliers online. These platforms provide seamless purchasing experiences through digital interfaces within digital marketplaces, or embedded directly on your corporate website.
Common vendors include:
Knowde (the only platform built exclusively for ingredients, polymers and chemicals)
Oro
Sana
Agilis
Accelerate digital sales with Knowde.
Digital selling is a new way to engage with leads and customers online. It doesn't replace your existing channels to market — it complements them. Learn how in our on-demand webinar.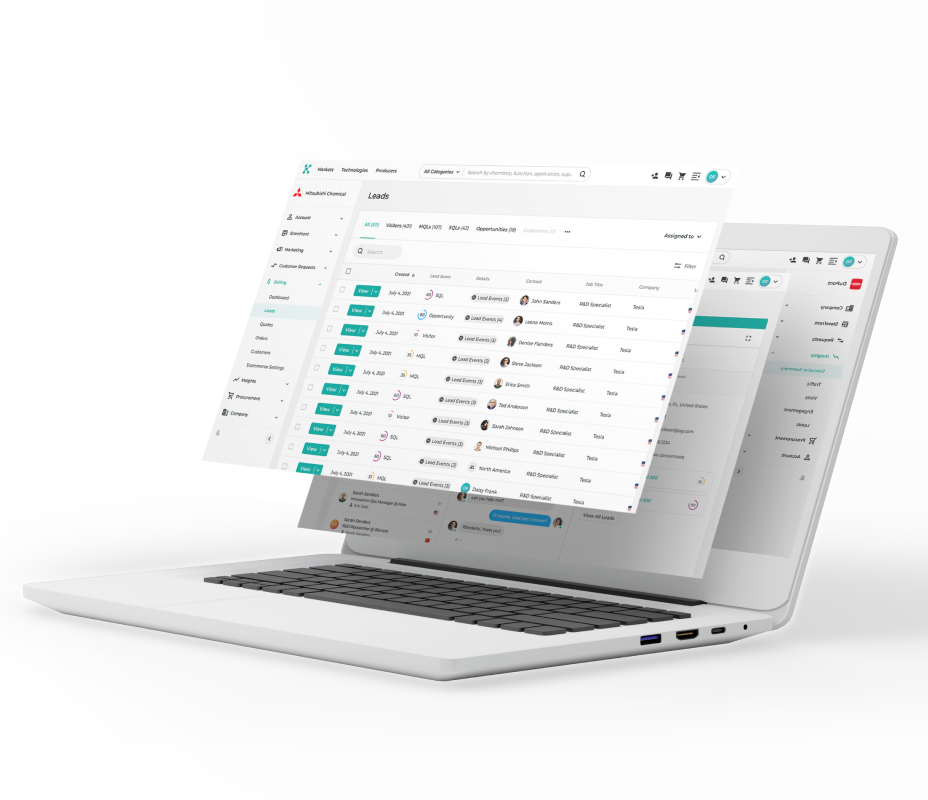 Customer relationship management (CRM) and lead management systems help sales teams manage relationships, qualify incoming leads, analyze lead data and effectively nurture leads to convert them into new business opportunities. Software automation saves time and routes leads to the right sales rep, enabling them to respond quickly and focus their energy on engagement instead of triage. These tools can also uncover what tactics are working and schedule regular follow-up cadences to increase engagement.
Common vendors include:
Knowde
Salesforce
Zoho
Zendesk
Sales & marketing automation solutions free sales reps from manual administration, follow-up and reporting tasks to focus on outreach and set more meetings. Mckinsey suggests that "more than 30% of sales-related activities can be automated," allowing reps to increase sales efficiency and get more facetime with customers. Examples include prospecting, lead qualification, outreach, contract negotiation, and more.
Common vendors include:
Knowde
Linkedin (Sales Navigator)
Salesforce
Outreach
Live chat & conversation tools can bring sales reps and technical experts into the discussion sooner to shorten the sales cycle. These tools help sales and product experts connect with customers online in real-time to answer questions, share additional information, set up meetings and more. Companies add these tools to corporate websites and online marketplaces to notify sales reps when a prospect engages — so they can jump in to help at the right time. Intercom's research suggests that website visitors are 82% more likely to convert to customers if they've chatted with you first.
Common vendors include:
Scheduling solutions eliminate friction between reps and prospects when setting up meetings. After a sales rep has qualified prospects, gotten in touch and identified interest in your product, the last thing you want to do is waste time going back and forth trying to schedule a meeting over email. Modern scheduling solutions integrate with reps calendars and allow prospects to schedule and book meetings at their convenience.
Common vendors include:
Virtual meeting and communication solutions make it easy to communicate in real-time and meet "face-to-face" over the internet, usually through video. These apps help digital sales teams interact with customers and host virtual meetings, webinars and events with prospects and customers.
Common vendors include:
Zoom
Webex
Google Meet
Microsoft Teams
Slack
Ready to make the jump to digital sales?