Forging Strong Customer Relationships Online
Reading Time:
5
minutes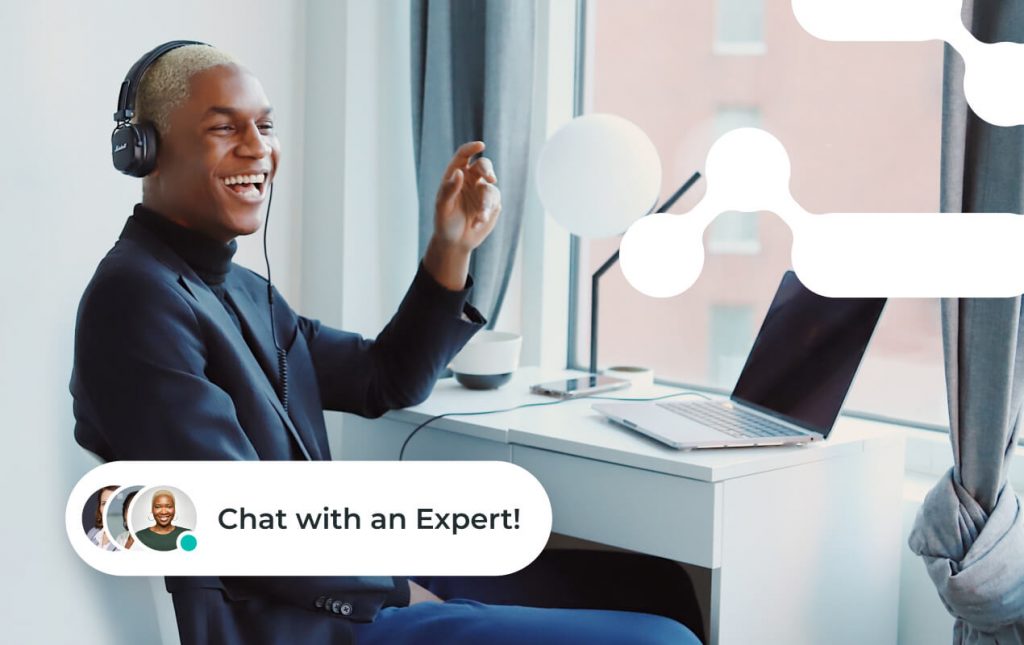 Digital selling is on the rise — and technology is strengthening bonds between sales teams and customers.
Ask any ingredient, polymer or chemical sales rep how they spend most of their time, and they'll likely say "behind the windshield." This answer shouldn't come as a surprise. Suppliers typically engage in direct selling from the field and frequently travel for in-person meetings, trade shows and site visits.
But what if sales reps could spend more time connecting with customers daily? That's the promise of digital sales. It's a significant change that many innovative suppliers are beginning to benefit from as they build digital sales teams.
Digital selling helps sales reps connect with customers in context and more often, leading to stronger relationships — without needing to travel or meet in person.
Digital sales adoption continues to pick up steam.
Suppliers re-evaluate field sales as costs rise.
Traditional field (or "outside") sales strategies have been on the decline for years in most industries, while digital (or "inside") sales teams have grown 15x faster. Why? By its very nature, the direct relationship selling model is expensive and difficult to scale without adding additional human resources.
Field selling also inherently limits the time sales reps spend connecting with customers. Take a chemical field sales rep that manages a specific state or region, for example. They often spend 60% (or more) of their time traveling, which cuts into the time they have to connect with key accounts and focus on relationship building. And depending on the size of the territory, they may only have time for 1-5 customer interactions per day.
Meanwhile, inflation and skyrocketing travel costs affect sales efficiency on the road. No matter how your reps get to their in-person customer meetings or trade shows, your company feels the pain when expense reports come in. Gas, airfare, lodging, food, and car rental prices are all hovering near all-time highs.
Change in travel prices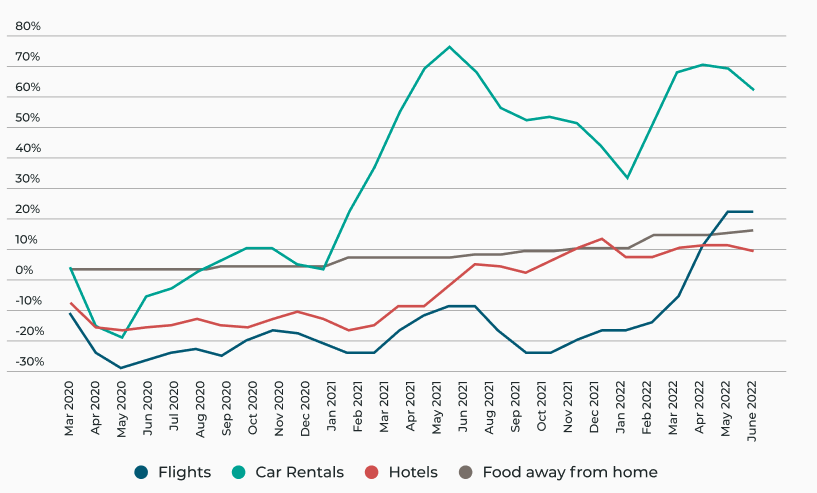 With numbers like these, it's not surprising that sales organizations are rethinking their approach to increase customer interactions, boost efficiency and reduce costs. These efficiencies become even more critical in the face of mounting macroeconomic pressure and a potential recession.
Changes in customer expectations require new technology solutions.
The nature of field sales in ingredients, polymers and chemicals has been evolving for some time. Customers now expect more information — and additional access to technical experts — to help them understand applications, formulation and use across segments before the sale. It's challenging to provide this access and interaction in a typical field sales environment.
"Even before the COVID-19 pandemic separated sales reps from their customers, the rising importance of technical expertise was already changing the nature of direct sales in chemicals."

– Bain & Company
New digital channels (such as online marketplaces and eCommerce portals), fewer in-person events, travel freezes and rapid technology adoption during COVID-19 have all radically changed the dynamics of the supplier-customer relationship — likely forever. The result: customers still value facetime, but not as much as they used to. Perhaps more importantly, customers now desire more options to discover products, connect with experts, request samples and place orders. This evolution is particularly evident with younger decision-makers who prefer virtual or digital interactions more than their predecessors.
4 Digital sales tools bringing suppliers and customers closer.
While it may seem counterintuitive, digital innovation is a great way to improve real-world customer relationships — whether you're in the field or selling remotely. This is why suppliers are doubling down on digital sales, software and omnichannel offerings.
Here are a few examples of innovative sales technology that suppliers can use to forge better relationships in the digital era:
Customer relationship management (CRM) and lead management systems help sales teams manage relationships, qualify incoming leads, analyze lead data and effectively nurture leads to convert them into new business opportunities. Software automation saves time and routes leads to the right sales rep, enabling them to respond quickly and focus their energy on engagement instead of triage. These tools can also uncover what tactics are working and schedule regular follow-up cadences to increase engagement.
Sales automation solutions free up sales reps from manual administration, follow-up and reporting tasks to focus on outreach and set more meetings. Mckinsey suggests that "more than 30% of sales-related activities can be automated," allowing reps to increase sales efficiency and get more facetime with customers.
Examples include:
Pipeline forecasting
Lead qualification
Contract negotiation
And more
Sales organizations in other industries already use this technology to help reps focus on the right strategies to drive customer acquisition. Suppliers can learn from their success and implement automation to realize similar benefits.
Digital marketplaces (like Knowde), by design, bring customers and sellers closer together online to provide an omnichannel experience. These new online platforms are quickly becoming a primary digital sales channel.
Suppliers set up virtual storefronts that include product catalogs, technical information and more. Customers can quickly search and discover products, connect with technical experts, request additional information and even make transactions in one convenient place. As Accenture guides, "digital marketplaces should be welcomed as innovators that offer additional channels to reach and engage with customers."
Live chat & conversation tools can bring sales reps and technical experts into the discussion sooner to shorten the sales cycle. These tools help sales and product experts connect with customers online in real-time to answer questions, share additional information, set up meetings and more.
Live chat tools are used on corporate websites and online marketplaces to notify sales reps when a prospect engages — so they can jump in to help at the right time. Intercom's research suggests that website visitors are 82% more likely to convert to customers if they've chatted with you first.
Technology + sales innovation = success
Each digital sales technology has one thing in common: they can be equally powerful tools for strengthening relationships between sales teams and customers. No matter how your company sells today, these solutions can fit into existing (or future) strategies and make the transition to digital selling easier. However, remember that technology alone is not a complete solution. Teams must support it with the right sales processes before companies realize the total ROI.
Fast track digital sales with proven tactics.