5 Digital Sales Trends Every Supplier Should Know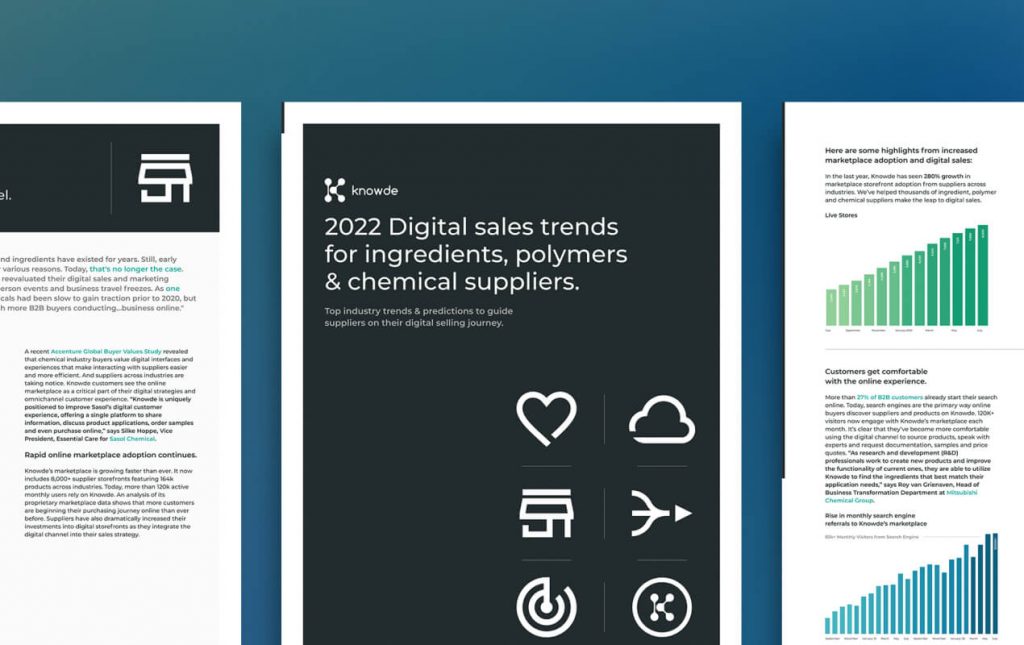 The sales landscape is changing fast. Stay ahead of the curve by responding to the top trends reshaping sales in the digital age.
Despite ongoing supply chain challenges and record inflation, the chemical industry expects 2022 to go down as one of its best years, with higher demand for products across all chemistries and end-use sectors. As suppliers shift their focus from the COVID-19 recovery to a growth mindset, many are accelerating digital business initiatives to reduce costs, improve processes and generate new revenue channels.

Knowde's recent 2022 Digital Sales Trends Report outlines five key digital sales trends every ingredient, polymer and chemical supplier should keep on its radar. Below you can read a summary of the report, including actionable steps your company can take to stay ahead of the curve.
Trend 1: Technology forges deeper customer relationships online.
Field sales costs continue to rise from inflation and skyrocketing travel prices. Meanwhile, suppliers are using digital channels more often to communicate with customers, boost efficiency and reduce costs — whether they're in the field or selling remotely. This is why suppliers are doubling down on digital sales, software and omnichannel offerings.
Here are a few examples of innovative sales technology that suppliers are using to forge better relationships through digital channels:
Customer relationship management (CRM) and lead management systems
Sales automation solutions
Digital marketplaces
Live chat & conversation tools
How to respond:
Arm field salespeople for the digital age.
Build a digital sales team.
Consider sales and marketing automation.
Trend 2: Sales teams adapt to next-generation customers.
Baby boomers have been retiring at an accelerated pace since the start of the pandemic. Meanwhile, more millennials are taking their place. Gartner research suggests that "as baby boomers retire, and millennials (the first digitally native generation) mature into key decision-making positions, a digital-first buying posture will become the norm." Millennials already make up the largest segment in the workplace. And by 2025, they're expected to make up 75% of the global workforce.
The forthcoming sea change will require suppliers to embrace digital sales strategies that align with the next generation — or risk losing out to competitors that do.
Here's how we expect sales teams to react:
Direct sales teams will embrace hybrid approaches and improve technical expertise.
Suppliers will build digital sales teams to lower costs, increase revenue and capture additional
market share through online channels.
Over time, sales models will shift to focus on efficiency and expertise.
How to respond:
Use technology to meet millennial customers' changing expectations.
Build digital sales experiences to support customer self-learning and reduce person-to-person touchpoints.
Shift organizational focus away from salespeople as the only channel.
Trend 3: Online marketplaces become a key sales channel.
Online marketplaces for chemicals, polymers, and ingredients have existed for years. Still, early entrants failed to reach wide-scale adoption for various reasons. Today, that's no longer the case. Marketplaces are quickly becoming a primary sales channel for large and small suppliers.
"We want to engage person-to-person. But we recognize the fact that the dynamic is going to change… And we need to be there when that happens. Our objective is to be where our customers are. Maybe even more importantly, be where they're going."

– Eric Spenske
VP Marketing at Givaudan

Watch the Webinar→
As marketplaces offer more value to suppliers by integrating digital sales and eCommerce capabilities explicitly built for the industry's unique buying journeys, the sales process is quickly moving online.
A recent Accenture Global Buyer Values Study revealed that chemical industry buyers value digital interfaces and experiences that make interacting with suppliers easier and more efficient. This value shift is evident in Knowde's marketplace, which is growing faster than ever. It now includes 8,000+ supplier storefronts — featuring 164k products — with more than 120k active monthly users.
How to respond:
Use technology to meet millennial customers' changing expectations.
Build digital sales experiences to support customer self-learning and reduce person-to-person touchpoints.
Shift organizational focus away from salespeople as the only channel.
Trend 4: Digital selling streamlines the customer experience.
In sales, timing is everything. But sales reps often struggle to know precisely when it's the right time to reach out to prospects or respond to new leads. In the digital era, sales teams can leverage actionable data and customer insights to eliminate guesswork and provide a streamlined customer experience.
As online marketplaces, eCommerce and customer portals become the norm, connecting with customers at the right moment will become easier with the use of customer data. Suppliers can reach out, answer customer questions, share insights and introduce product experts when it's most beneficial to the customer.
Here are some examples of Knowde interaction data that sales reps can use to optimize the sales process:
Customer insights
Search history
Product page views
Documentation or technical data sheet downloads
Sample requests
Quote requests
How to respond:
Increase the use of marketing, sales and customer support automation pre and post-sale.
Leverage interaction data to optimize the customer's journey.
Enable faster conversations online.
Trend 5: Digital insights increase upsell and cross-sell opportunities.
Organic growth is harder to come by these days for suppliers. And while demand has returned since the pandemic's early days, supply chains worldwide remain broken, and lockdowns have left the industry facing raw materials and labor shortages. So what levers can suppliers pull in the near term to spur sales growth?
Here are three ways digital channels are changing the game:
Digital cross-sell and upsell strategies can help to turn the tide and unlock more consistent revenue growth.
Customer insights can help reps optimize sales with unprecedented insight into customer behavior.
Digital storefronts make it easier for customers to discover more products and self-serve.
How to respond:
Bring your entire product portfolio online.
Optimize sales follow-up using customer insights from digital platforms to cross-sell additional products in your portfolio.
Leverage sales automation and partner with marketing to upsell existing customers.
Get ahead of the emerging trends redefining sales for ingredient, polymer and chemical suppliers.