Organizing Product Data: Where Your Digital Transformation Begins
For chemical suppliers and distributors, digitizing product information is the first step in the digital journey.
The digital arms race in the ingredients, polymers and chemical industries is heating up. According to EY's latest CEO Outlook Survey, digital transformation is the second-most prominent capital issue for suppliers and distributors as they continue to face geopolitical uncertainty, supply chain constraints, changing customer expectations and inflation — all impacting growth and profitability. These challenges have driven industry leaders to accelerate digital initiatives across every function.
Before any successful digital transformation can occur, suppliers and distributors must get their houses in order. And that starts with organizing, normalizing, and digitizing product information. As the old saying goes, "garbage in, garbage out", and the key to any successful digital transformation is the quality of the data that will serve as the foundation for everything to follow.
In this post, we'll break down the fundamentals and challenges of product data digitization and how you can fast-track your digital journey with Knowde's Product Information Management (PIM) and Product Master Data Management (PMDM) solution.
Your products are central to your business. But product data chaos is holding your digital transformation back.
Whether you're a supplier or a distributor your products are the core of your business. They're how and why your company exists. And the data behind each product is essential for all functions including sales, marketing, operations, supply chain, regulatory & compliance, and more.
"Start with the product data as early on as you can, because it will be the foundation of everything else you do."

– Karsten Beckmann
Former CEO EMEA, Brenntag

Watch the Webinar
But if you're like most companies in our industry today, that product information is spread across your organization and lacks a central source of truth. It's siloed, updated frequently (or too infrequently), and owned by various people in different roles. It is a nightmare to maintain properly and is usually trapped in one (or more) of the following places:
Static PDFs
Spreadsheets
Various file formats
Sharepoint or other internal drives
Inboxes
Other business systems
This state of 'data chaos' isn't uncommon. It's typical in our industry. But the reality is that it's holding suppliers and distributors back from leaping forward into the world of digital opportunities. Until your company can digitize and organize its product data effectively, you're stuck on square one.
Extracting, organizing and unifying this data is no small task.
Even if you're among the minority of companies lucky enough to have all data and documents stored in a single location, the information required to start a digital transformation remains trapped in these sources. Additionally, the chances are quite high it isn't in the condition required to really make the most of it. Before you can leverage product data to power business systems, websites, product catalogs, and other digital tools, you must figure out how to get this unstructured data out of your systems and documents. And then, it must be structured, cleansed, normalized, and put into a hierarchy and unified taxonomy. 
This process takes a lot of technical and tedious work. And every other aspect of your digital strategy hinges on getting it right. So how do you escape product data chaos? That's where a Product Information Management (PIM) and PMDM solution built for the chemical industry comes into play.

Knowde can establish your master data and set up your Product Information Management System.
At Knowde, we've spent the last five years solving this problem. We've worked with over 8,000 suppliers and 250K+ product datasets to establish the Knowde Knowledge Engine. It's the core technology that powers every Knowde solution, including our industry-leading online marketplace. It's battle-tested — and now we've made it available to any supplier or distributor.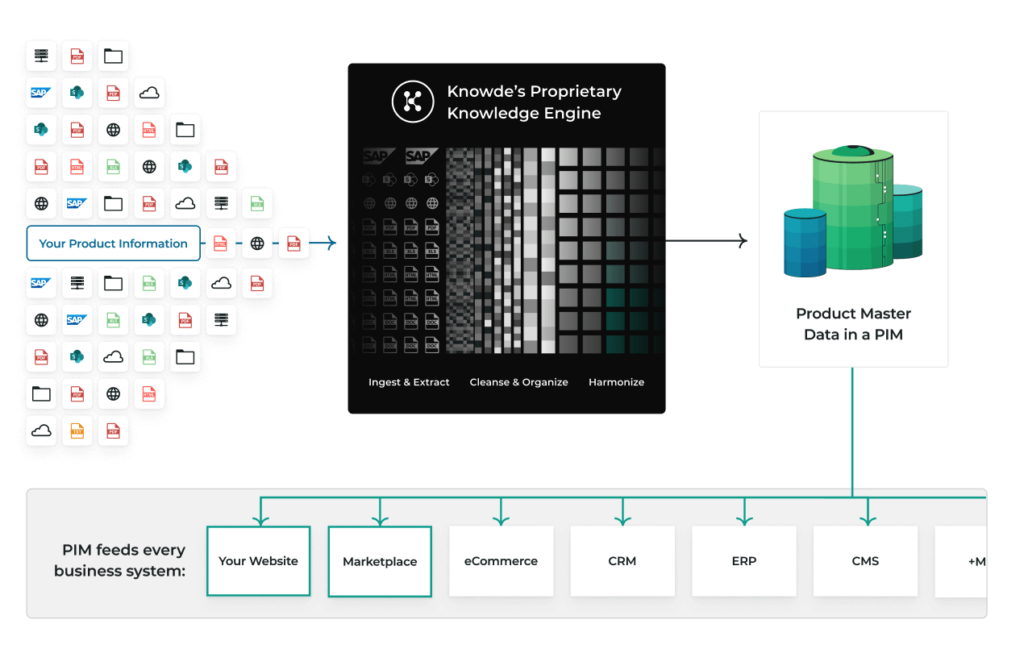 We'll take all your product information and documents — no matter the format (pdf, xls, ppt, etc.) — and ingest the data in our Knowledge Engine to extract all the relevant product information and map it to our proprietary data hierarchy. From there, we cleanse your product data, deduplicate information, and classify every attribute and product using a single, unified taxonomy.
The results? Cleansed and harmonized product data stored in a PIM as the single source of truth to feed every internal and external business system — and power every phase of your digital transformation.
Organizing your product data unlocks everything else.
With the right product master data and PIM solution in place, you can fully leverage your other digital investments, including your CRM, ERP, or website. You can also empower internal teams with tools — and deliver exceptional online experiences to your customers, which is the key to surviving and thriving in the digital era.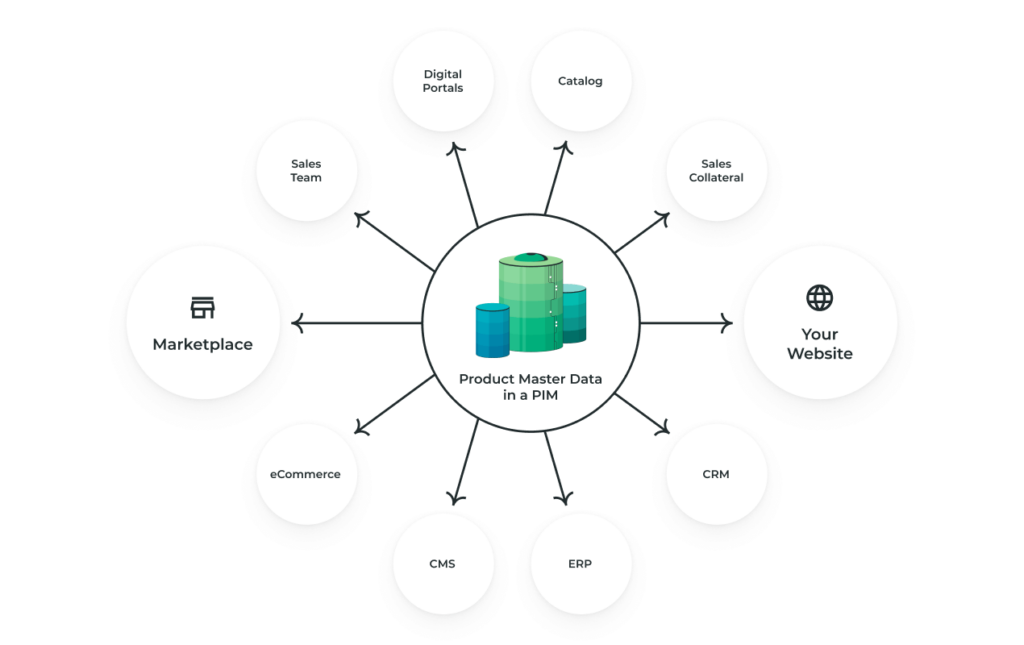 Feed internal systems with organized data.
Ensure accurate sales and performance reporting to understand how much of your product you sell or will sell.
Accurately associate customer leads and sales opportunities to the correct product records. Aggregate a single view of your sales pipeline and sales performance at the product and brand level.
Create amazing online customer experiences.
Let customers view your product catalog online and improve their buying journey – search, browse, filter by any attribute, compare products, get documents, place orders and more.
Boost productivity across your company.
Enable your sales team to sell their entire product portfolio so they can close more deals faster and drive more revenue.
Provide your marketing team with the information they need to promote products, features,and applications to the right audiences.
Empower your product managers to quickly identify gaps in their catalog so they can build the most comprehensive product portfolio.
Ready to kick digital into high gear? Let's talk.
Knowde helps you fast-track your digital transformation. Implementing our PIM and PMDM solutions built for the ingredients, polymers and chemical industries is orders of magnitude quicker, cheaper and easier than building a custom solution in-house — or buying another PIM off the shelf and customizing it to manage the complexity of your unique products, not to mention all the work that comes after that to get your data into that PIM.
If you're ready to accelerate digital, Knowde can help.