Bring the Power of Knowde to Your Website
Reading Time:
5
minutes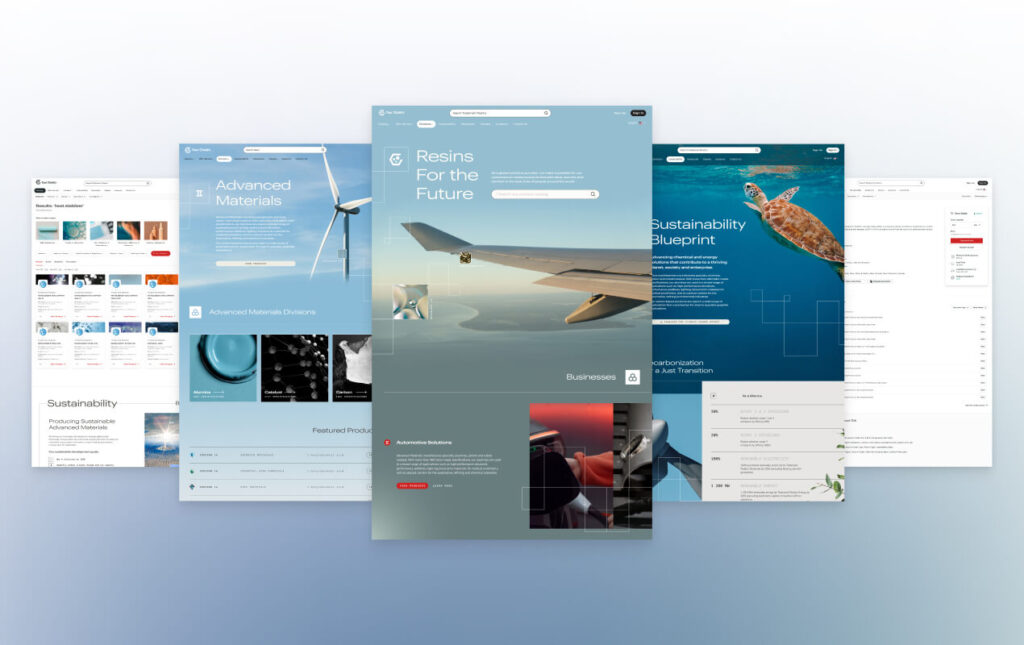 Deploy a modern customer experience on your website in weeks with Knowde.
If you're familiar with Knowde, you probably think of us as an online marketplace. The Knowde Marketplace has grown exponentially over the past few years, now featuring 8,000+ suppliers and more than 250K+ products.
Now we're taking the next step in our mission to bring the entire industry into the digital world. We're constantly listening to our customers and we heard loud and clear that suppliers want to leverage the power of Knowde's platform beyond the marketplace by bringing our industry-leading technology to existing websites and delivering value wherever their customers are online. 
We're excited to announce that our newest platform functionality makes it easy for suppliers to modernize the digital customer experience by deploying Knowde's software on your existing website — and turn it into a growth tool for your sales team.
Your website is a huge, untapped growth opportunity.
Most suppliers rely on field sales or distribution partners to reach and engage customers. But this approach is expensive, inefficient, and impossible to scale. It's tough for sales teams to reach customers at that exact moment when they're working on a project in the lab that's relevant to one of your products.
Meanwhile, the world has gone digital, and customers — especially younger buyers stepping into leadership roles — are spending more and more of their time online. Our industry is following suit, meaning customers worldwide come to your website to find products daily.
"Generational shifts in the workplace are turning the business buying process on its head. Lack of understanding about millennial and Gen Z buying behaviors can adversely affect providers' ability to reach, engage, and ultimately win these buyers over."

— Amy Hayes, VP and Research Director at Forrester

Read the Article
Today, typical supplier websites in our industry don't meet modern customers' needs. Customers want to search and browse your products and learn about them. They want an easy way to ask an expert if they have a question. And when they need a document, sample or quote, they want to request them online. If you aren't helping customers through an online buying journey, you're missing out on sales and driving leads to your competition.
Creating a modern online experience isn't easy.
There's a reason many websites in our industry leave customers wanting more: building an online customer experience that supports the entire buying journey takes a lot of work. Your website serves many audiences — investors, employees, suppliers, and customers — which adds complexity. And in most cases, you and your agency lack the digital and technical skills to take on a customer-focused website project.
Knowde's turnkey customer experience platform unlocks new possibilities.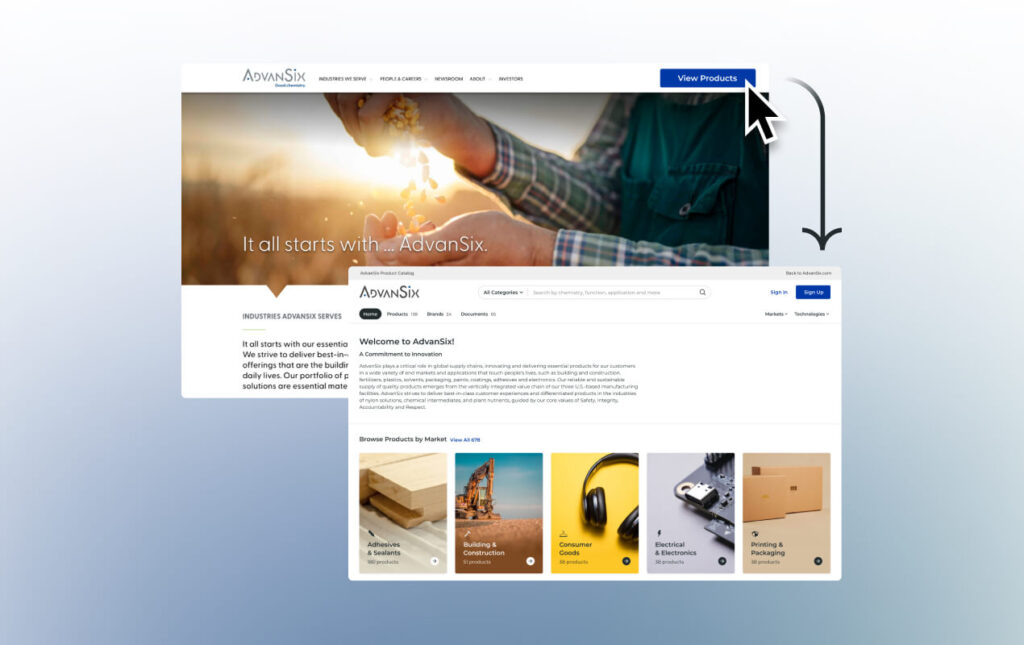 Knowde is changing the game. You can now deploy a modern customer experience on your website in a matter of weeks. Adding Knowde's turnkey platform to your existing website gives you an instant customer experience upgrade. We give you all the tools you need to deliver an amazing online customer experience, resulting in more organic sales growth and reduced costs to acquire and serve those customers. You can enable your customers to learn about your products, engage with your team or even transact with you all in one place — without draining your internal resources.
The first step is digitizing your product catalog.
To transform your online customer experience, you must help customers discover, engage and transact with you online. And that starts with a digital product catalog.
Get your products in front of high-intent potential customers and empower them to discover what they need. Your digital product catalog unlocks a whole new world for your customers on your website. They can find the exact product they require using Knowde's unparalleled search experience. Or browse your product catalog by market or technology – whichever makes sense for them – filtering by every relevant product attribute to find the product that best suits their needs.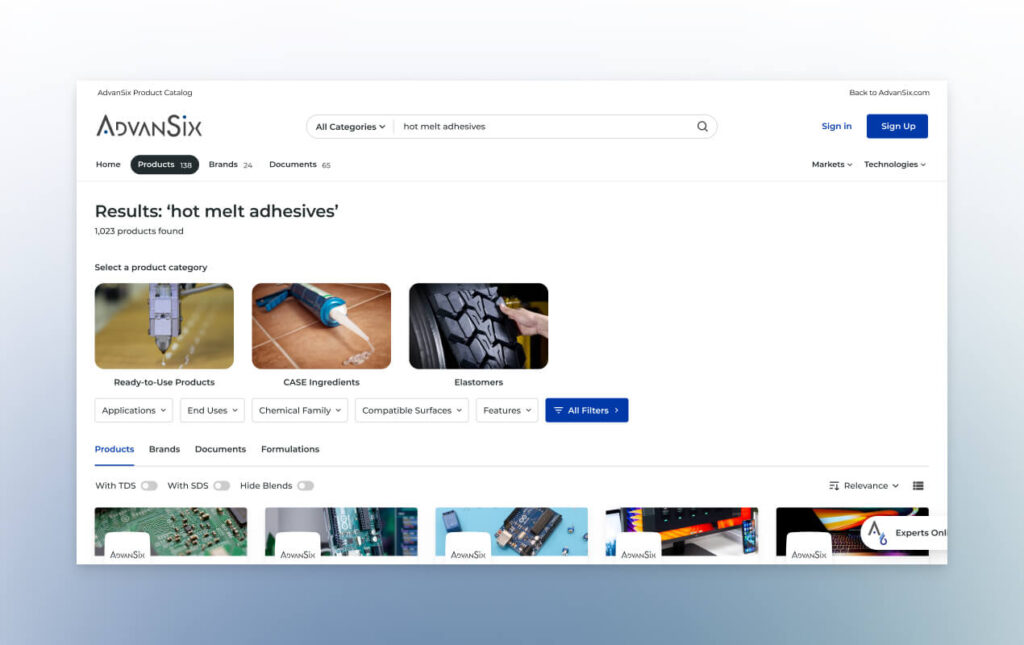 Build stronger customer relationships with engagement tools custom-fit for our industry built into your website. Customers can quickly request samples, documents or quotes and message your team with any questions for a seamless digital experience.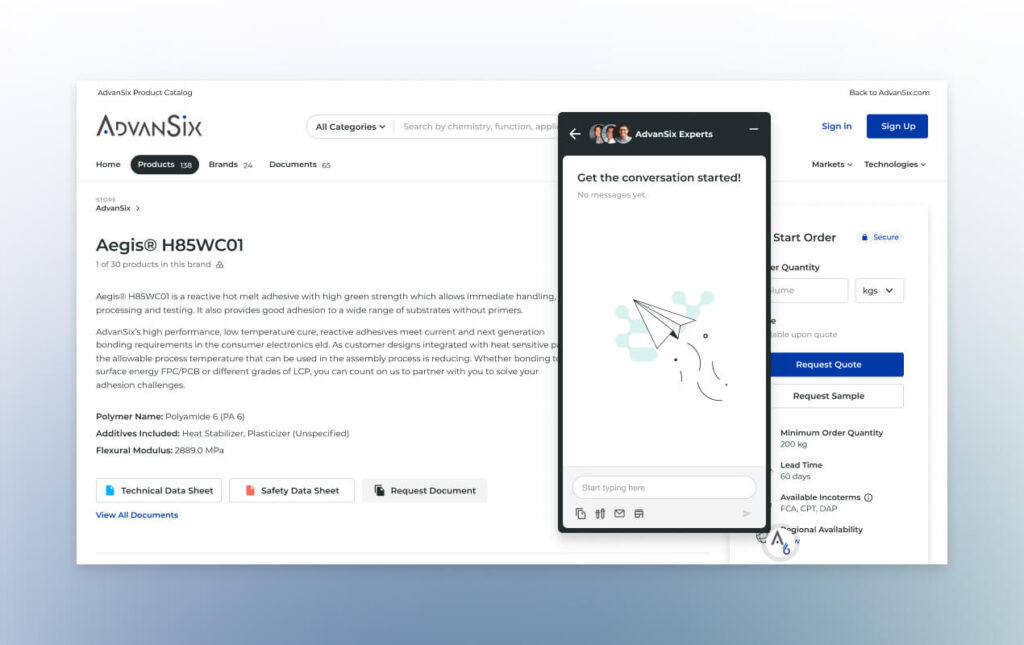 Make it easy for customers to purchase products online with eCommerce on your website. Configure custom rules for different customer segments to help you streamline repeat orders, send order updates and customer communications and more. Automating your existing transaction processes frees up your sales teams' time and lowers cost-to-serve while increasing revenue.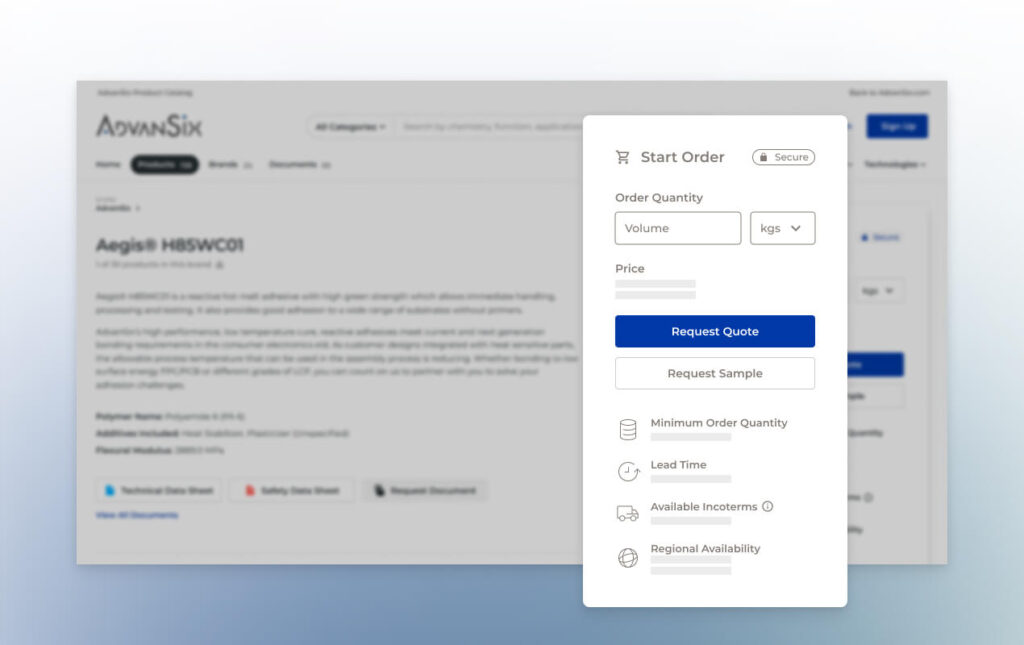 Turn your website into a growth tool for your sales team.
It's not just your customers that get a better website experience — your sales team wins too. And with Knowde, that's exactly what they get.
Never miss a beat with customer engagement analytics.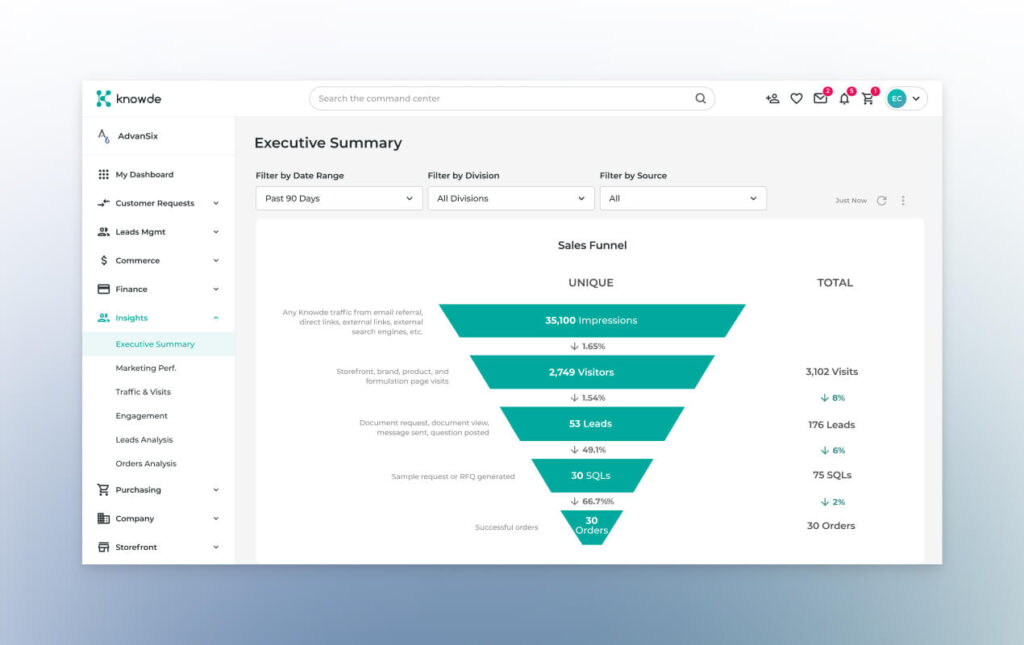 Unlock your website's growth potential and drive revenue by connecting with high-intent potential customers when they're showing interest on your website at the right moment. With Knowde, you'll never miss a sales opportunity. See who's visiting your website, what company they're from, which products they're interested in, and much more. Capturing these in-depth analytics help your sales team convert more leads and surface valuable insights for your business.
"Knowde allows us to move forward with an integrated, cost-effective digital sales platform. This provides incremental value to our customers when searching for new flavor solutions or existing product information for their current products."

— Bob Motta, Chief Business Development Officer at Callisons

Read the Press Release
Manage your entire customer experience in one place.
Manage leads from your website and handle customer requests in one place, such as samples, quotes and documents, to maintain a system of record at scale. Knowde integrates with CRM providers like Salesforce, so your critical business systems stay connected.
Knowde helps you fast-track your digital transformation. Implementing our turnkey customer experience on your website is quicker, cheaper and easier than building a custom solution in-house.
---